project overview
Project Summary (pdf 68kB)
NSF ITR Meeting Poster, June 2004 (pdf 85kB)
The fundamental goal of this research is to develop a broadly useable framework for pattern analysis and classification of animal vocalizations, by integrating successful models and ideas from the field of speech processing and recognition into bioacoustics.
Improve understanding of animal behavior

Identify correlations between vocalization patterns and behaviors
Develop better tools for bioacoustics researchers

Create better habitats and species survival programs

Use vocalization clues to assess and improve environmental stress
Use vocalization clues to assist with breeding and artificial insemination programs.

Design new technologies that could be used for remote monitoring and study in natural habitats.

Individual identification
Signal enhancement
The basic idea behind our approach is the automatic classification of animal vocalizations. The vocalizations can be classified using various criteria including vocalization type, the individual making the vocalization, behavior of the animal during the vocalization, or by various physiological indicators such as stress or estrous cycle. The general layout of a typical automatic classification system is shown below.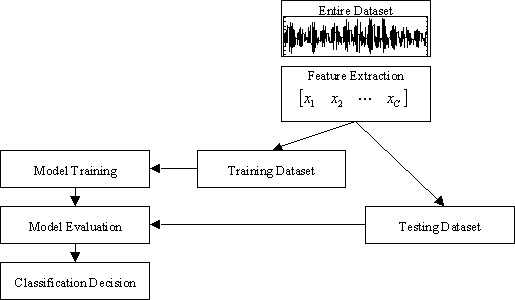 First, each vocalization in the dataset is converted from a waveform to a set of features. These features quantify the vocalization in many fewer values than it would take to represent the vocalization as a sampled waveform. The dataset is then broken into a training set and a testing set. The training set is used to train the vocalization models. One model is trained for each type of vocalization. Once the models are trained, the simularity between each model and a testing set vocalization is evaluated. The model which best fits the test vocalization is chosen to be the correct model and the vocalization is labeled appropriately.
Marquette University / Speech and Signal Processing Laboratory
Automatic feature identification and extraction
Hidden Markov Model (HMM) framework development
Integration into existing bioacoustic software platforms
FAUNA Research Communications Institute
Species: African Elephants, Sumatran Rhinos, Indo-chinese tigers
Language acquisition studies
Simultaneous acoustic and seismic recording and playback studies
University of Central Florida / Disney's Animal Kingdom
Species: African Elephants
Simultaneous video and acoustic recordings in open habitat environment
Caller identification and behavioral correlation studies
University of Connecticut / National Undersea Research Center
Species: Beluga whales (St. Lawrence river estuary population), poultry
Impact of environmental noise on Beluga vocalizations
Automatic call segmentation and clustering
Vocalization stress analysis on captive agricultural poultry populations
Adam Mickiewicz University / Department of Behavioural Ecology
Species: Ortolan Bunting
Individual Identity
Censusing
Analysis of song types